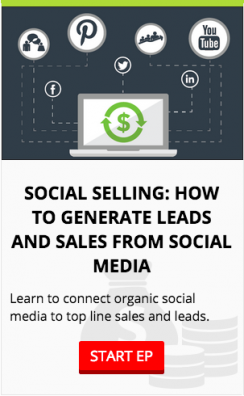 When you get access to my system you'll learn:
* Our 7-step process for driving traffic, leads and sales from Pinterest (including our "Perfect Storm Pin" method for creating viral pins).
* The "Bracelet and Charms" YouTube strategy that was used to drive nearly 200,000 free leads from YouTube over the last 18 months.
* The Direct Outreach script and process used to generate thousands of B2B leads from LinkedIn.
* How to build raving fans while selling products and services on Twitter and Facebook using the "Value First" strategy.
* The 4-Part Social Success Cycle (Listening, Influencing, Networking and Selling) that provides the foundation upon which successful social media campaigns are built.
* The "10 Minute Process" for figuring out where YOUR target market is hanging out online (don't put the right message in front of the WRONG audience)!
…and so much more...
http://www.digitalmarketer.com/lp/get-social-selling-now?utm_source=followup&utm_medium=email&utm_content=sma-followup-m3&utm_campaign=social-media-audit-email-followup