After the incredible success of our last sold-out Longevity Intensive™event in 2012, many
of the people who participated in it asked us to produce another small, intimate event like it... with the latest advanced & cutting-edge content that dives deep into longevity strategies andanti-aging.

And for the past three years our answer has been "No way!"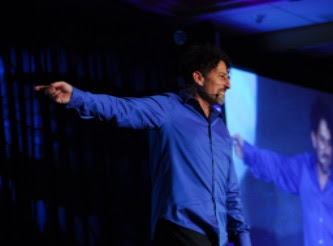 Why? Because producing small events takes as much preparation as our larger 2,000-person conferences. In addition, it takes me, personally, months and months to prepare for EVERY one of our Longevity Conferences®... so I can bring the latest research to you in a fun, inspirational, and compelling way.

Our events (even the smaller ones) are also very expensive. Hiring staff, renting the hotel conference rooms, a twenty foot LED screen backdrop, theater-style lighting, as well as implementing state-of-the-art video and sound equipment and giving away THOUSANDS of dollars in free prizes.... the costs associated with running a successful Longevity event are seemingly endless!


But despite the incredible amount of time, money, and effort each conference takes, they are clearly the high point of my entire year.

I simply LOVE Longevity events! And our participants do too! Out of every event we have ever produced, the Longevity Intensive™ event stands out as one of the most meaningful & profound experiences of my life.

For this reason, after hearing from all of you and the overwhelming demand to have another limited seated event - I convinced my team to put on another Longevity Intensive™ event.

That's when I reached out to my good friend Ron Teeguarden about creating the Longevity Lifestyle Program that will cover, from A-to-Z... the most powerful protocols for experiencing total cell rejuvenation, safe and effective detoxification, immunology, mental strength, and radiant physical health.

There will be an opportunity to ask your most pressing questions to both of us...as well as give us the chance to spend quality time with YOU!
What makes the Longevity Intensive™ different?

1. The Longevity Intensive™ will ** be limited to only 250 participants **. Fewer participants means more opportunities to ask questions and spend time with our incredible health experts.

2. The Longevity Intensive™ will be up close and personal. One of the drawbacks to our larger events is no matter how many people I attempt to meet, I simply can't connect with ALL of them... but when we have fewer attendees, that gives me more time to meet almost everyone at our intensive Meet and Greets and Book Signings!

There will also be time to network with like- minded health enthusiasts at our special VIP Meet and Greets that are happening

Friday

and

Saturday

evening. Enjoy delicious organic appetizers while getting to know David, Ron, and other attendees in a laid-back and personal setting.

3. The Longevity Intensive™ will spend more time on fewer topics.This means we will have more time to go deeper into the most important health topics that matter to YOU.

4. The Longevity Intensive™ will have fewer speakers and as a result, more time to ABSORB the incredible information shared. One of the best parts of our Longevity Now® Conferences is the wide-variety of speakers and ideas shared in such a short period of time.

And although most people find the high-paced schedule stimulating, we also realize there is a time and place for slowing down and savoring those AH-HA moments by not piling too much on. Sometimes a little bit less can feel like a whole lot more.

5. The Longevity Intensive™ will NOT be streamed live via the Internet. Unlike many of our conferences, we won't be streaming this event live online. Why? Because we believe some experiences are best seen in-person and we want the flexibility and freedom to cater to the energy of the in-house participants.

6. The Longevity Intensive™ will include a FREE gift bag worth $75 filled with superfoods, super herbs, delicious chocolate, and more!

The Longevity Intensive™ is produced by the same team who brought you every Longevity Now® Conference over the past nine years... and our quality standards have only increased with each successful program.
http://www.longevitywarehouse.com/specials/longevity-intensive-ticket/?utm_source=Longevity+Warehouse&utm_campaign=8d40a0bdad-5_Steps_to_a_Flat_Stomach8_24_2015&utm_medium=email&utm_term=0_410e72ecec-8d40a0bdad-112578813&goal=0_410e72ecec-8d40a0bdad-112578813&mc_cid=8d40a0bdad&mc_eid=12057c8c20